Welcome to Harraseeket Lunch and Lobster Company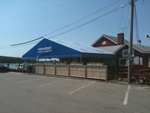 Harraseeket Lunch & Lobster Company is a family operated restaurant, serving lunch and dinner from May to October since 1970. We are located on the beautiful South Freeport waterfront in South Freeport, Maine, with a true operating fishing business. We are a local landmark for natives and visitors alike. For over 40 years, the Coffin family has strived to maintain a small-town family atmosphere. Whether enjoying our fresh seafood from our inside dining room or the outside picnic tables under a covered awning, you can relax with views of the beautiful harbor and our fishing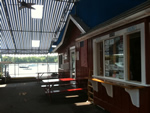 boats bringing in their daily catch. Our restaurant offers the freshest lobster rolls available, delicious Maine shrimp, clams, scallops and fabulous homemade desserts using handed down family recipes. Enjoy pies, cookies, brownies, Shain's of Maine Ice Cream, and of course, our famous whoopie pies. We also have available standard favorites from the grill for landlubbers. Our Lobster Pound offers fresh cooked lobsters, steamed clams, corn on the cob and more. You can also take live lobsters home with you. In keeping with tradition, you are welcome to bring your favorite beer or wine to enjoy with your meal. We provide all other beverages and we also sell packing boxes and gel packs for your traveling needs.
Harraseeket Lunch & Lobster has been featured on TV shows like Rachel Ray, numerous articles in papers from Massachusetts and New York, Downeast Magazine, New England Magazine, Favorite Lobster shacks, etc.
Open April 27th until Columbus Day.
LUNCH COUNTER
April 27th - June 11th
11:00 AM - 7:45 PM
June 12th - Labor Day
11:00 AM - 8:45 PM
Labor Day to End of Season
11:00 AM - 7:45 PM
(207) 865-4888
LOBSTER POUND
April 27th - June 11th
7:00 AM - 7:45 PM
June 12th - Labor Day
7:00 AM - 8:45 PM
Labor Day to End of Season
7:00 AM - 7:45 PM
(207) 865-3535